OUTDOOR ROOMS DESIGN & LIVING
14th Edition
A formal Melbourne garden design that meets the needs of a modern-day family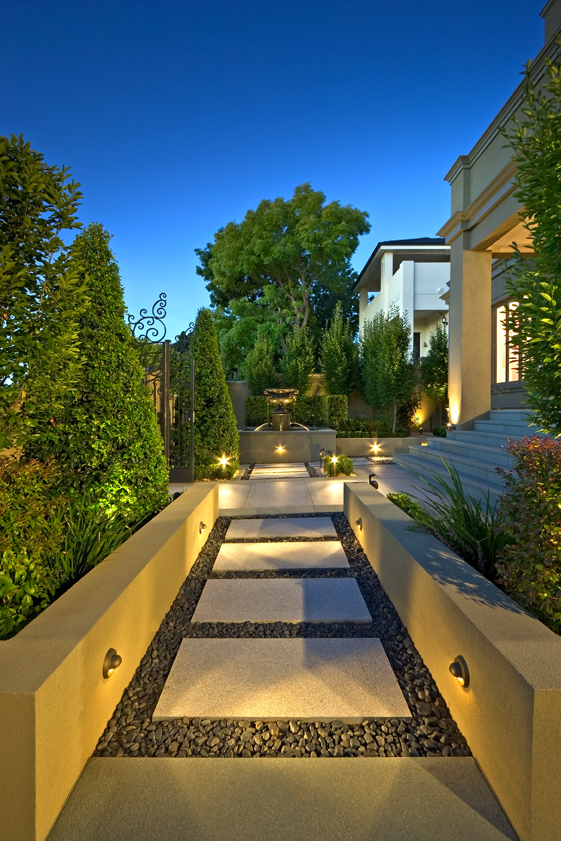 For this grand Melbourne home, only the best would do – only the most impressive design and the most exacting workmanship. The landscape design came from the drawing board of Melbourne Landscapers, Exquisite Gardens Australia. They were also charged with the task of constructing this remarkable multi-level garden.
Formal in design, this is a smart garden in every sense of the word, from the neat, well-defined layout to the garden lighting and outdoor speakers that are smart wired into the home automation system.
In a formal garden you will always find a strong underlying sense of structure and an unmistakable emphasis on symmetry and balance. This well-ordered approach to this Hawthorn garden design is ideally suited to small or elongated urban spaces as this exquisitely finished landscape more than amply proves.
Focal points come in the guise of two water features, strategically positioned so they can be viewed from all areas of the home and garden. Structure provided by feature fencing throughout and richly textured rendered brick walls and planters. A sense of place was achieved by the use of mature plants that give the garden a well-established look.
Granite figures prominently throughout in the form of paving, pool coping and a polished granite water feature.
So impressive was the result that this project won for Exquisite Gardens the Hard Surfaces in the Landscape category in the 2005 Landscape Industry Association of Victoria Awards of Excellence. In making the award, the judges praised the symmetrical design, the complex level changes and the attention to detail shown through the project.
Photography by Patrick Redmond