AUSTRALIAN GARDENS & LANDSCAPES
This special project, constructed by Exquisite Gardens, is set in an idyllic and exclusive Melbourne Suburb.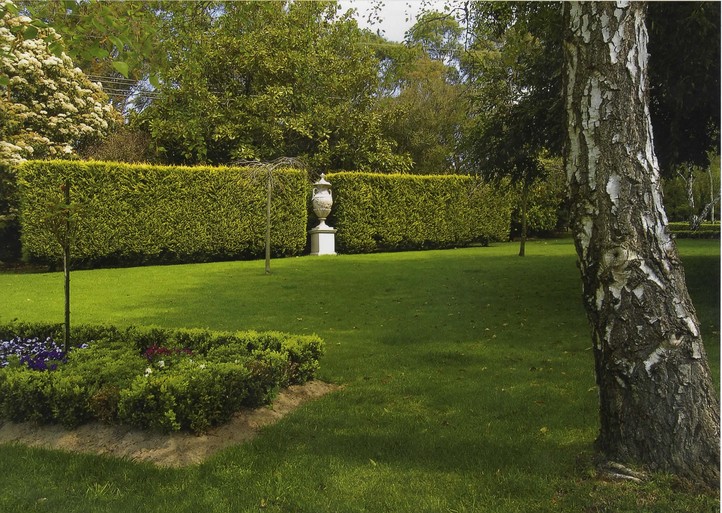 Minimalist design is implemented in this vast space to create a feeling of elegance and esteem. Part of the brief from the client was to create a formalised garden within a typically natural environment, with a seamless transition between the two.
With the combination of lawn and paving, this is the perfect place to entertain an large number of guests or to site and lose oneself in the serenity of the moment. Topiaries sit aside the entry to the magnificent pool, which extends the length of the paving to a sheer edge, while hints of green foliage are provided for eye-appeal.
Exquisite Gardens have constructed this yard space with impeccable attention to detail, utilising the large area with both hard and soft landscaping for seamless integration with the lush ssurrounds. The formalised atmosphere of the garden works well with the natural environment, creating a relaxed and low maintenance entertainer's haven.
Working closely with lighting professionals, Exquisite Gardens successfully created captivating ambiance that embraces and highlights the landscape's finest points, done in the subtlest of ways. The transformation of this garden from day to night is truly spectacular.
A unique part of this design is the hand-laid pebble driveway with black aniseed granite borders, creating a striking feature. Three sets of stone pillars border the driveway entrances, with each cross over to the road being laid in inter-linking fans of granite sets. Careful selection of plants was required including advanced Chinese Elms within borders of bluestone edging.
This landscape is not only functional and stylish but it has raised the bar fro the domestic aspect of the landscaping industry. In turn, it has created a space that the owners can retreat to and enjoy on their own or with friends.