AUSTRALIAN GARDENS & LANDSCAPES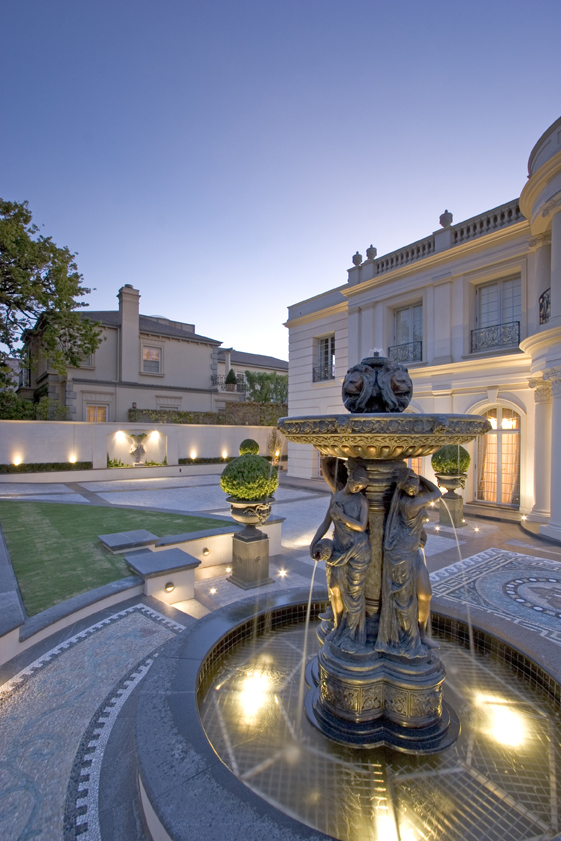 Exquisite Gardens have designed and built this stately outdoor area. Oozing with opulence and demanding attention, they have created two areas spanning from the front of the property, right through to the rear.
The entire project features over 400 square meters of granite paving and two remarkable water features – one of which is located to the rear, and a fountain towards the front of the property.
Manicured lawns and topiaries feature prominently throughout both gardens which compliment the style of the home and articulate an air of affluence. The above mentioned use of mosaic tiling, which surrounds the water fountain, add character to the stunning majestic home and provide a preview to what is to be expected toward the rear.
Exquisite Gardens have maintained the same high standard of design from the front to the back of this property. As you exit the home and enter onto the large courtyard-styled alfresco area, you are met with a spacious area bordered with rendered walls and green hedging. An expansive area of lawn provides a generous down the centre of the lawn leads out the pleasant sitting area by the water feature. From here, you are able to marvel at the true perplexity and magnitude of this design.
A selection of lighting is utilized throughout the design to hightlight tis beauty come night. Down-lights, up-lights and spot lights shine brightly on several of the garden's features including the two enormous Canary Island palms at the rear of the property, the rendered wall at the centre of the yard, and even under water in the fountain at the front of the residence. This not only serves as a practical solution, but also draws attention to the finer details of the outdoor area creating a dramatic effect.
In working with such a challenging and large space, Exquisite Gardens have achieved a ramarkable feat of elegance and design. A sympathetic balance of hard and soft surfaces were utilized together perfectly in creating a distinctly beautiful and aesthetically pleasing landscape. Exquisite Gardens takes pride in providing a personally tailored environment that not only reflects their client's lifestyle, but compliments the architecture of their home.